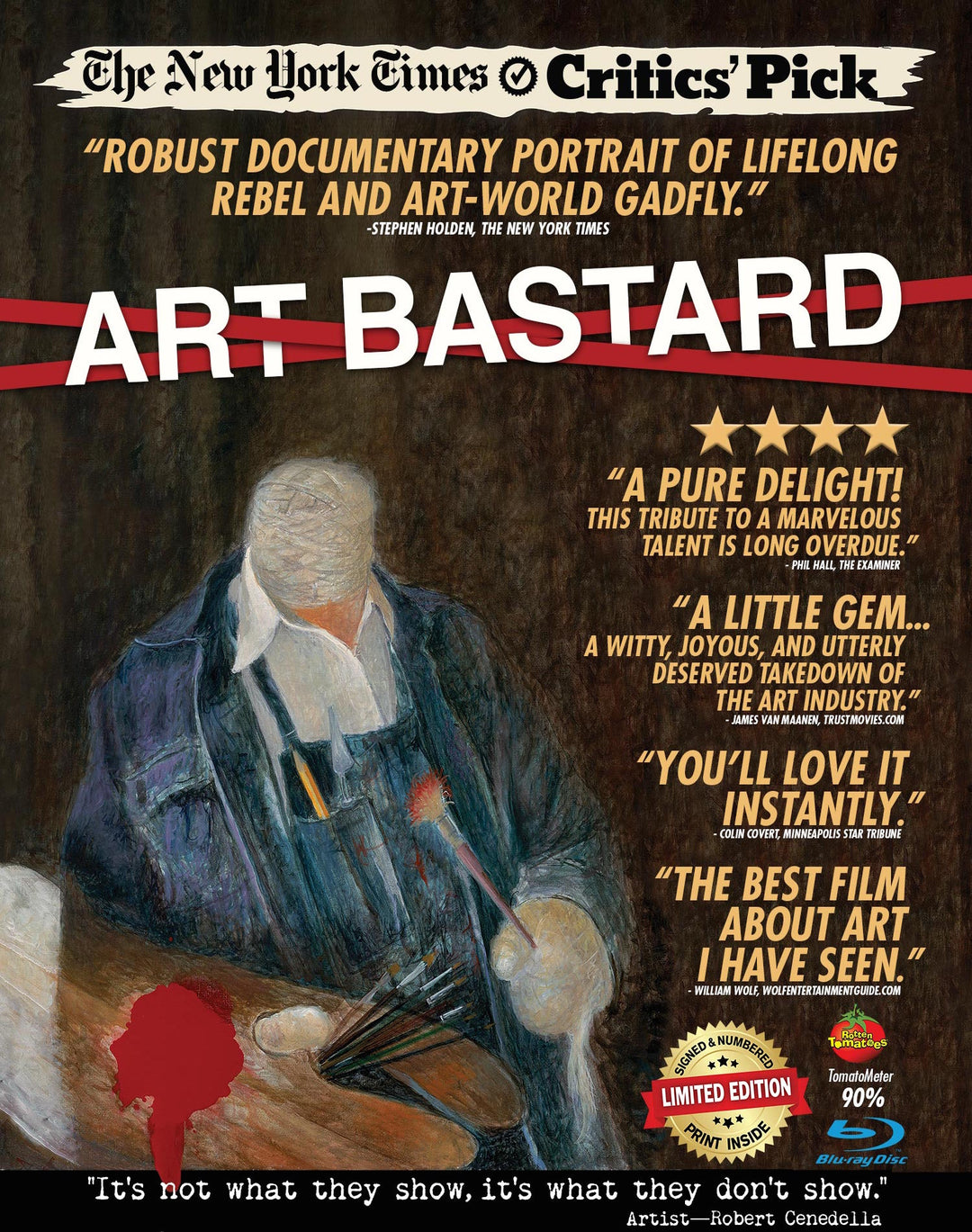 Art Bastard - Blu-Ray DVD
2016. 84 Minutes Run Time + Bonus Footage.
"It's not what they show, it's what they don't show."
---
Free Shipping in the United States!
Worldwide Shipping Available
---
ART BASTARD is the mischievous tale of a rebel who never fit into today's art world… yet has become one of its most provocative, rabble-rousing characters nevertheless. At once a portrait of the artist as a young troublemaker, an alternate history of modern art and a quintessential New York story, ART BASTARD is as energetic, humorous and unapologetically honest as the uncompromising man at its center: Robert Cenedella.
Cenedella was a contemporary of Andy Warhol. But he has essentially served as the anti-Warhol. His noisy, raucous, color-splashed paintings of city scenes approach the world with a sincerity that defies the irony, frivolity and controversy-for-the-sake-of-controversy that have become the cultural currency since the 60s. Yet, as ART BASTARD reveals, Cenedella couldn't be any more a product of these times. He was the son of a blacklisted writer, raised on crushed 50s dreams. He's been haunted by dark family secrets that had him questioning his identity. His passionate convictions started so young they got him kicked out of high school. Even when he found solace and expression in art, he was an unabashed outsider – never a gallery darling, not pursued by museum curators, but an artist who was going to have his say regardless of who was paying attention.
Even so, over time, Cenedella's vast canvases, rife with the chaotic beauty of politics, humor, history and humanity, drew admirers from all walks of society – even from the vaunted art patrons who rejected him. In a fast-moving series of riveting interviews with family members, art critics, museum directors, New York power brokers, art students and Cenedella himself, director Victor Kanefsky candidly presents Cenedella's personal journey – and reveals the creation of a modern art career that ignored all the modern art rules.
Kanefsky follows Cenedella from his days selling cheeky "I Like Ludwig" buttons to pay his art school tuition to his apprenticeship with the exiled German satirical painter George Grosz, who inspired his merging of refined technique with blistering social critique; from his provocative 1965 "Yes Art" exhibit which became the most popular – and debated – show of the year, lambasting the crass commercialism of the blossoming Pop Art movement, to his sudden, 12-year break from painting and his fruitful return as a teacher, mentor and unbowed iconoclast of American painting.
While Cenedella forthrightly questions the mechanics – and profit-making — of the art world, he has it out for no one. As he puts it: "It's not what they show that bothers me, it's what they don't show." What ART BASTARD shows, in stunning cinematic detail, are the living, breathing, storytelling canvases that Cenedella has created for six decades. Set to a rollicking soundtrack, the film not only tours Cenedella's life. It also tours his eye-poppingly intricate, New York-centered paintings as one might travel the city – peering into every corner to uncover Cenedella's characters, commentary and emotions. The result is a visceral art documentary that also has the sweeping impact of a feature film – at once an investigation of a man's identity, an inquiry into what art is and who it's for and a feisty portrait of the ups and downs of a life lived on one's own terms.
BidSlate presents a Concannon Productions film, ART BASTARD, written and directed by Victor Kanefsky and produced by Chris T. Concannon. The editor is Jim MacDonald and the director of photography is Douglas Meltzer. 

To read the Art Bastard Booklet that comes with the DVD, click here.
---
---
We ship Worldwide.
Free Economy Shipping in the United States! Please allow 5-8 business days for your order to arrive.
For expedited shipping at an additional cost, we use the following methods:
UPS Next Day Air Early (1 business day)
UPS 2nd Day Air (2 business days)
UPS Ground (1–5 business days)
USPS Priority Mail (1–3 business days)
Please note UPS does not deliver to PO boxes or to APO/FPO/DPO addresses.
For shipping internationally, we offer the following options:
UPS Worldwide Saver (1–6 business days)
UPS Worldwide Expedited (3+ business days)
UPS Worldwide Express Plus (1–3 business days)
International orders are subject to the country's import fees, duties, taxes, and/or brokerage fees. These are the responsibility of the recipient.
---
---